*** Stop Press ***
December 7th - Richard is coming to talk about :-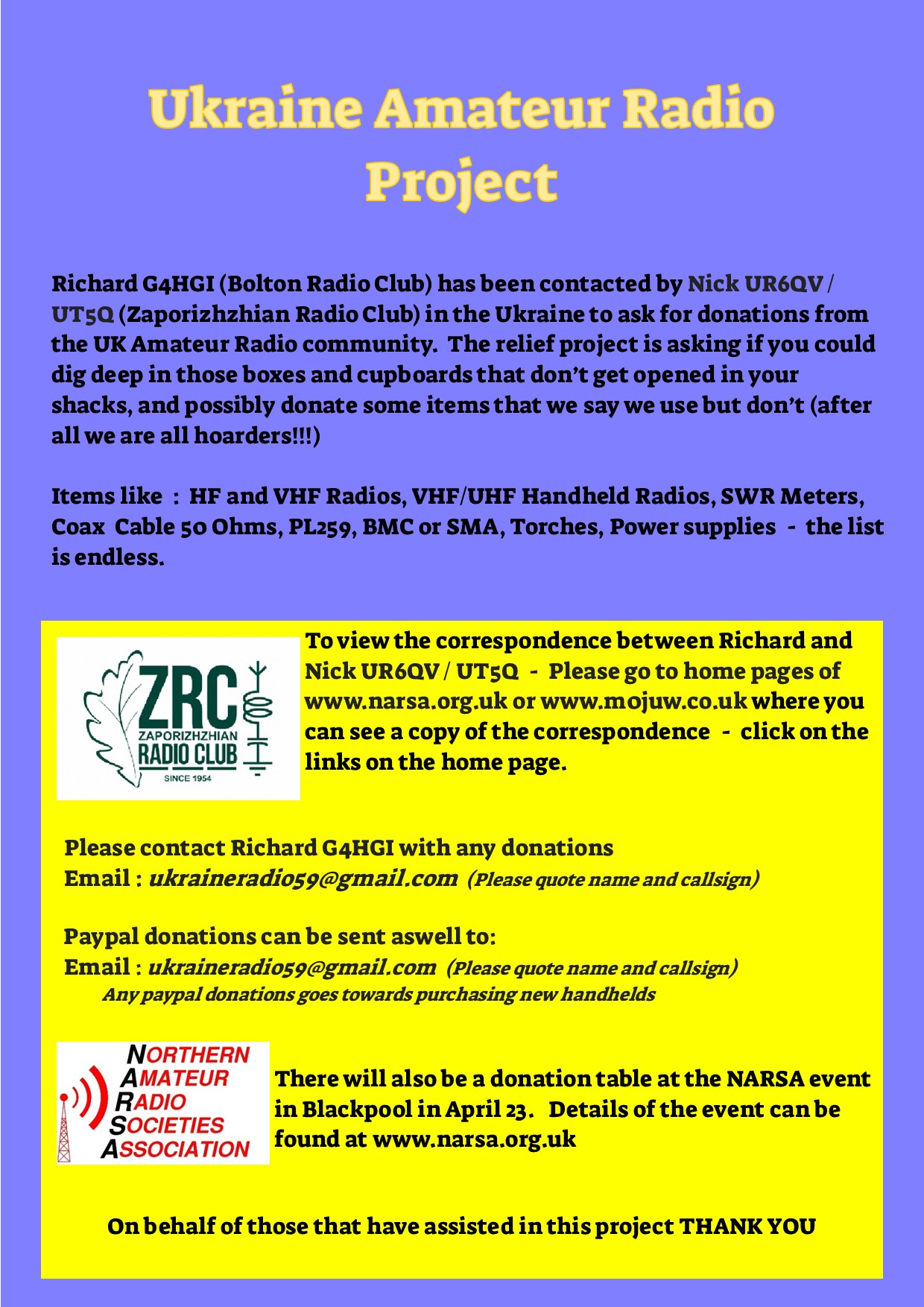 S.M.R.C.C. aims to promote interest in all aspects of Amateur Radio as a hobby. Key features:-
Our weekly Thursday night face-to-face group meetings have resumed.  We have technical lectures, group discussions, and Morse classes for budding CW operators.

Our Morse practice sessions are for new operators who wish to develop their skills in CW operating.  They start at 19:15 on Tuesday evenings.  Frequency 3,553 kHz or thereabouts. Listen for  G4TFU, M0IYP

.

We meet on-air in weekly nets on the 3.5, 50 and 145 MHz bands.  See the net lists below. Visitors are welcome to join any net and chat with Club members.

Weekly nets run on Sundays to Fridays to discuss the A to Z of technical issues using different bands and modes. Visitors welcome.
Sunday HF SSB on 3,660 kHz at 08:00 and sometimes 3,637 kHz at 10:30 LT. This net is on HOLD at Present
Monday at 20:00 LT our digital chatroom net using YSF GB-SRRCC
Tuesday 19:15 our 80-metre Morse net near 3.565MHz  runs at 18 wpm.
Tuesday 20:00  find us on or near 145.475 MHz FM.
Wednesday at 20:00 find us on the 6-metre frequency of 51.530 MHz.
Friday at 20:00 LT is our Technical Topics net on 2-metre FM run by GX3UHF near 145.475 MHz.
Foundation, Intermediate and Advanced courses with access to our on-line training environment
Morse proficiency classes.   For e-mail practice files contact contact@smrcc.org.uk
Radio, computing and electronic experimentation
Propagation studies - see www.rsgb.org.uk/psc
Microcontrollers are an important interest amongst our members.
At Present the club callsigns G2HW and GX2HW  issued for use by SMRC members  by OFCOM and under authorization from an ex SMRC member are not in use by SMRC. For further understanding on club callsigns can be found in OFCOMS document;
https://www.ofcom.org.uk/__data/assets/pdf_file/0026/82637/amateur_radio_licence_guidance_for_licensees.pdf
Membership costs just £30.00 per year. If you wish to join or re-join the club please download the membership form and follow the instructions (Membership Application Form .doc)
Our Constitution can be downladed here Final Constitution - 2023.pdf
To find out more drop into one of our meetings (location and time at bottom of this page) or join in one of our on-air nets—you will be assured of a warm welcome).  or send an email to use and we will get back to you at  contact@smrcc.org.uk
You can also follow us on Twitter or Facebook:-
http://www.facebook.com/groups/smrcc42/
or visit our stand at one of the events below :-
The Norbreck rally in Blackpool is on Sunday April 21th 2024.